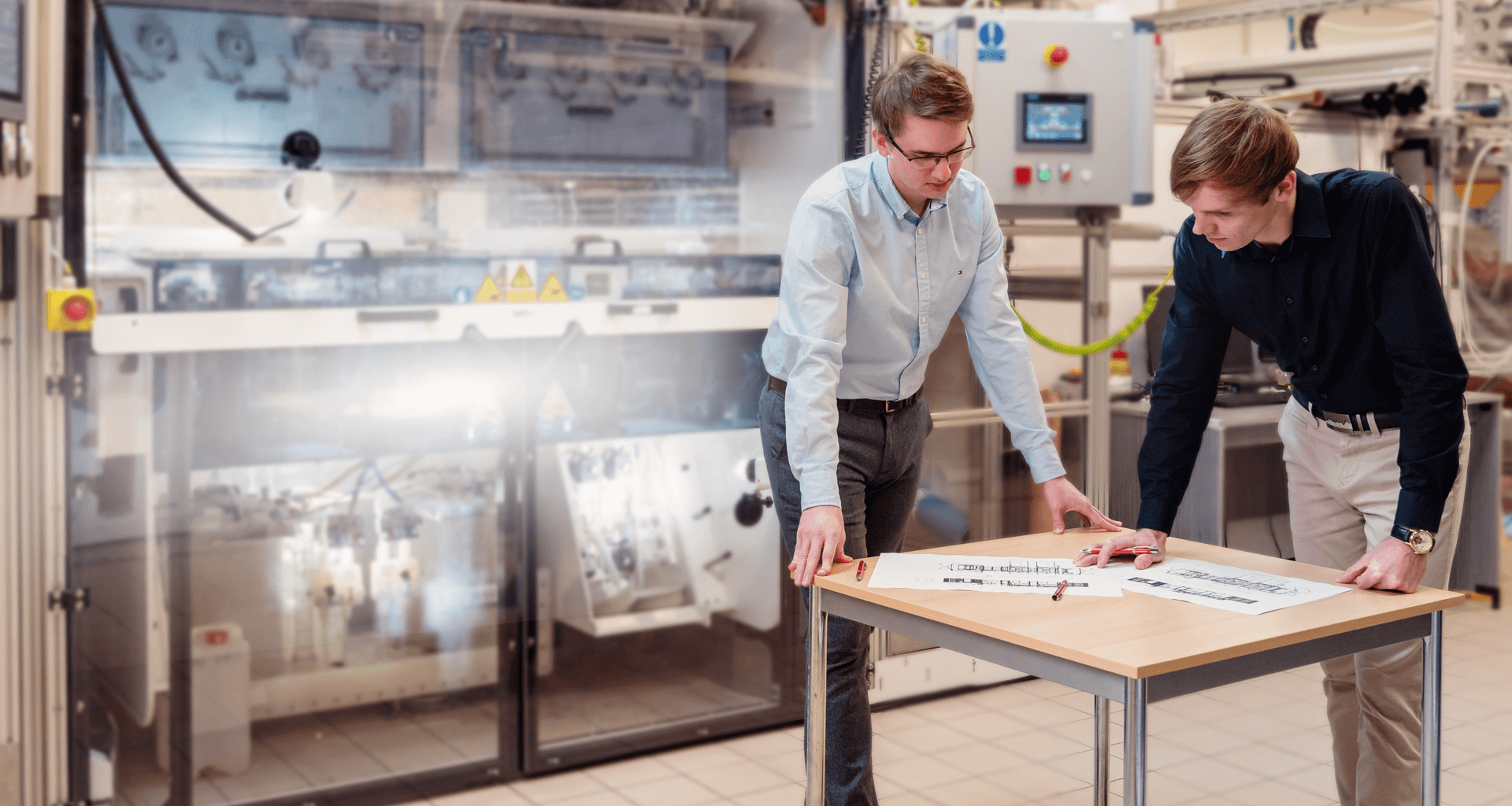 Together we turn your visions into reality
Can nanofibers improve your products' properties? What equipment do you need for nanofiber production, and what support will Elmarco provide? The answer is simple.
We are the right partner
We deliver effective industrial solutions to turn your ideas into working nanofiber products. We understand the complexity of the problem and we provide support throughout the process via several forms of cooperation.
Purchase of laboratory equipment for own research
With your own Nanospider™ laboratory equipment, your researchers can independently work on your nanofiber concepts. While working at the laboratory scale, your team is building internal knowledge about nanofibers including production techniques and applications to your products.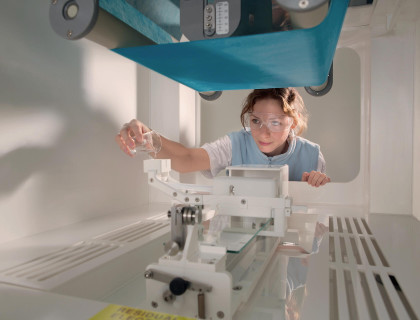 Working with our R&D team to find solutions
There are several ways of collaborating with Elmarco and you can choose the most effective for your nanofiber ideas.
Standard Sampling Agreement R&D assistance in early stage nanofiber product development including the following stages:

Fundamental research and development on laboratory machines
Scale up and more extensive product testing on industrial lines



Joint Development Agreement (JDA - Joint Development Agreement).
Long‑term conceptual development of a specific nanofiber product
An iterative approach to product development
An effective and proven form of cooperation
Whatever your starting point, we take an iterative approach to nanofiber product development because many of the performance parameters are closely related and difficult to isolate. We can change the fiber diameter, coating basis weight, polymer type, electrical field strength, and many other parameters that impact the fiber morphology.
We have test equipment to measure material performance such as air permeability, filtration efficiency, and water column. We can also measure the diameter of the nanofibers with our SEM equipment as well as measuring viscosity and conductivity of the polymer solution.
What is involved in the process of developing nanofibers and line production?
1. Definition of material and process
At the beginning, we define the Recipe of Record and the Joint Material Verification Agreement
The Recipe of Record (RoR) defines the nanofiber manufacturing process, including polymer recipe, substrate specification, machine set‑up, test protocols, material performance and uniformity requirements.
The Joint Material Verification Agreement (JMVA) expands on the RoR by adding industrial scale production of multiple rolls of nanofibrous material. This agreement also includes information on batch variability of the polymer, substrate and any additives combined with visual defect inspection criteria, material handling requirements, and post‑processing steps.
2. What production equipment is most suitable for you?
Using the RoR, the JMVA, and your requirements for minimum and maximum annual production volume (m²/year), we prepare an offer that includes all of the equipment necessary to produce your nanofiber product. The offer will include peripherals beyond the Nanospider™ spinning units which are necessary for nanofiber production.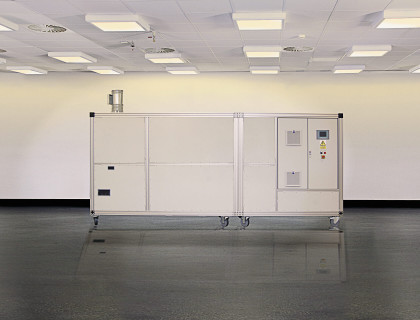 NS AC units provide precisely conditioned air to the electrospinning chambers.
MORE ABOUT AIR CONDITIONERS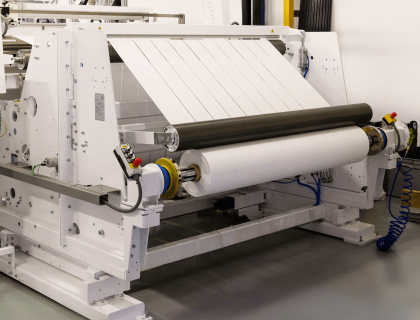 The unwinder and rewinder drive the nanofibers' substrate.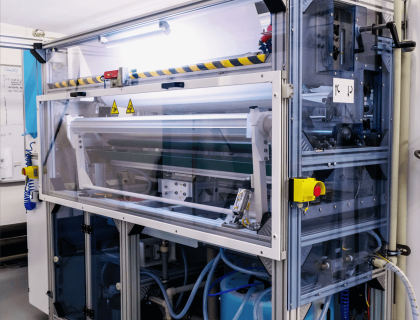 The adhesion module ensures nanofiber adhesion.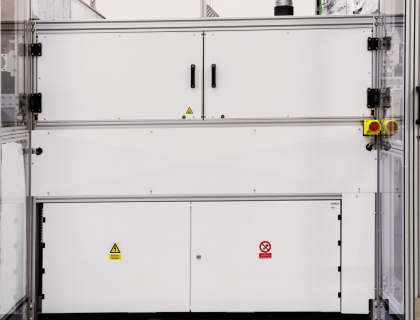 A hot air dryer dries the produced nanomaterial.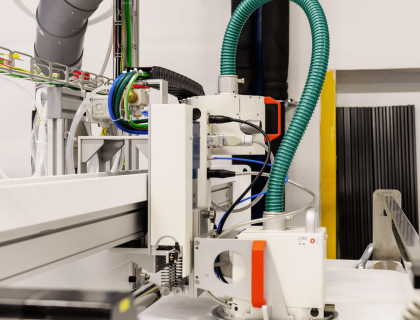 The TEXTEST device continuously measures air permeability, pressure and resistance.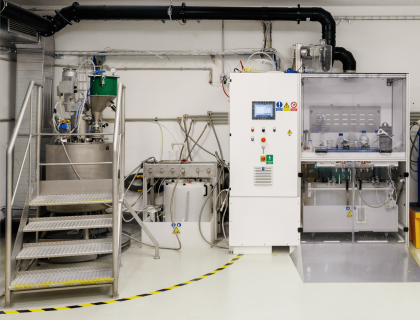 The mixing station prepares polymer solutions.
3. Cost modelling
A critical part of the purchase decision is understanding the costs of manufacturing nanofibrous materials. Using our comprehensive and fully‑burdened cost model, we can evaluate material costs during a variety of scenarios including the production ramp‑up phase.
4. We will design a production line for your operation
After the equipment purchase contract is signed, the next step is design approval.
The main tasks in this phase are finalizing the customization, facility layout, and site preparation requirements. We often provide a detailed safety review since using high voltage processes and preparing liquid polymer solutions may be new aspects for your manufacturing site. After the design is approved, we begin manufacturing your equipment and the related peripherals. This involves purchasing thousands of parts from multiple vendors and several weeks of assembly. It can take many months to complete the entire process depending on the state of the global supply chain. However, if you are anxious to get your product to the market, we can offer short‑term production capabilities to help bridge the period between purchasing and delivery of the Nanospider™ equipment.
5. Many tests await the finished machine
After production of your equipment has been completed, the line goes through a series of tests to ensure it performs as designed.
Mechanical Integrity Test (MIT)
We check the mechanical functionality of all machine elements at minimum, nominal, and maximum settings.
Chemical Integrity Test (CIT)
During this phase, we fill the newly completed machine with polymer solution and produce nanofibers for the first time.
RoR verification
Producing nanofibrous material that meets the RoR requirements is the critical task during this phase.
Preliminary Acceptance Test (PAT)
Our customers visit Elmarco to participate in the PAT activities which verify that the hardware achieves all the specifications defined in the RoR and JMVA.
6. Transport, professional installation and training
After completion of PAT, the equipment is methodically dismantled and carefully crated for transportation to your site. Our logistics team can arrange transport by air, land, or sea and can coordinate FCA Liberec, DAP customer site, or any transport term.
When the equipment arrives at your facility, our installation team can supervise and/or conduct all of the installation related tasks.
After the mechanical installation is completed, the equipment is re‑tested in the same way it was before delivery. We start with MIT and CIT before finishing with the Final Acceptance Test (FAT) where we again verify the RoR and JMVA specifications can be satisfied.
Once FAT is complete, we provide comprehensive training of your staff to demonstrate all machine functions including diagnostic procedures and routine maintenance. We also offer training on the theory of electrospinning, which includes the adjustment of machine parameters to change the specifications of the nanofiber material.
Follow‑up support
Our support does not end with installation, as the equipment includes a comprehensive one‑year warranty and we are able to provide remote diagnostics to solve most problems with the device. If necessary, we can send our team directly to your facility to handle more difficult situations. We also offer spare and consumable parts to make it easy to keep the hardware operational. Additionally, extended warranties and preventative maintenance service packages are available to keep your equipment in peak operating condition.
Contact us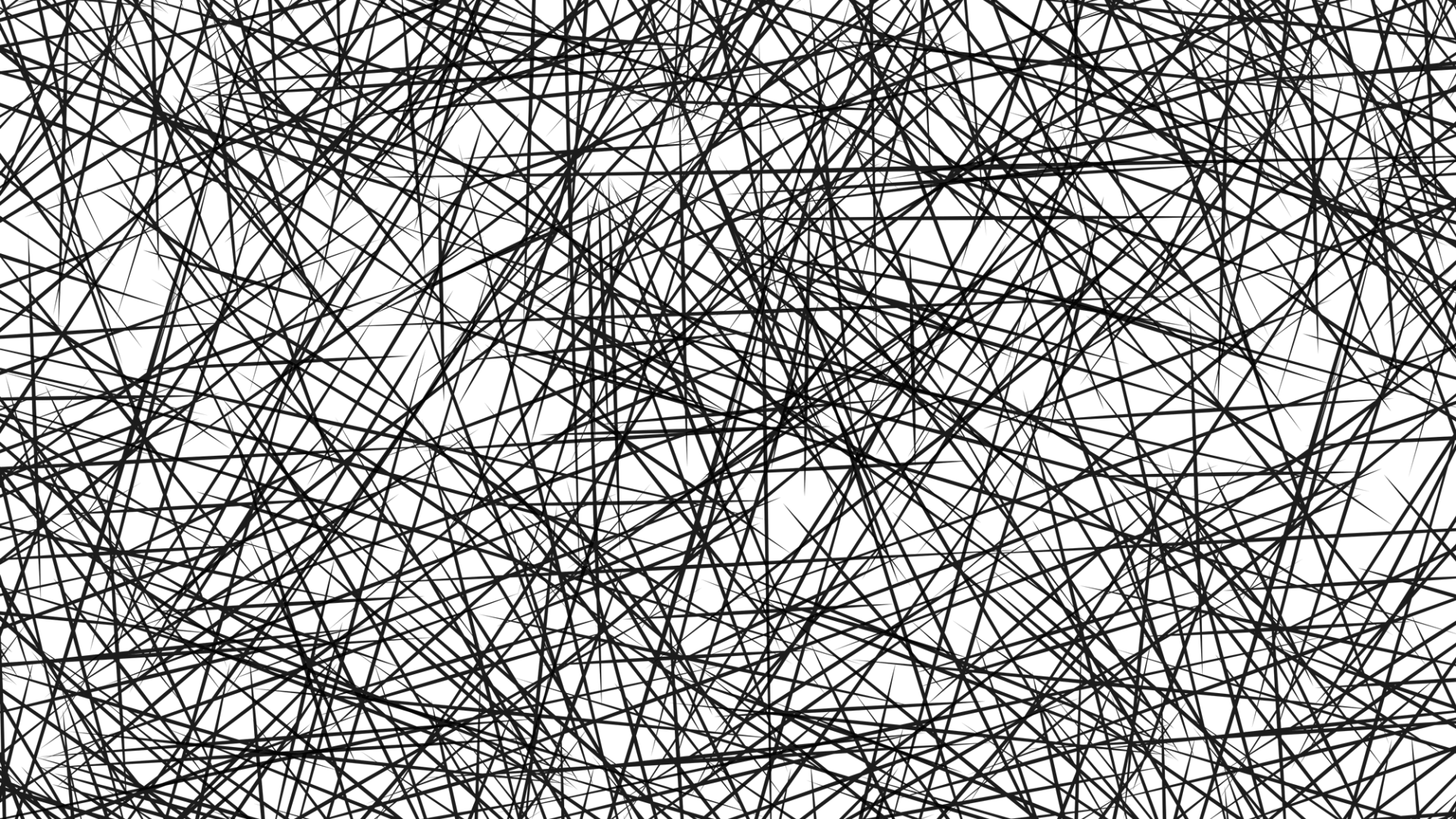 Curiosities from around the world on a scale of 10‑9 m